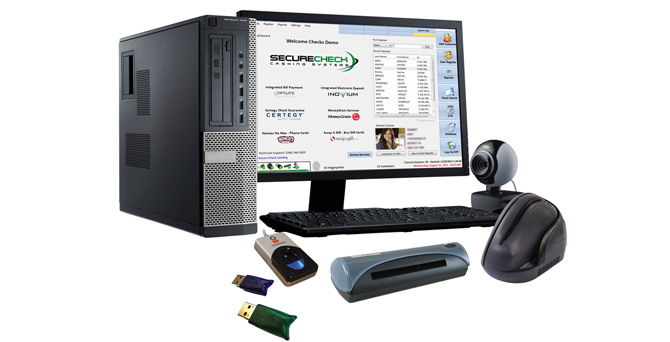 Enterprise Edition
The Enterprise Edition is our flagship product that offers the most complete POS and customer management solution for money service businesses! It is designed to operate an entire financial service center and include optional add-on modules for all of your money service business' needs. Its features are simply unequaled by any competing product.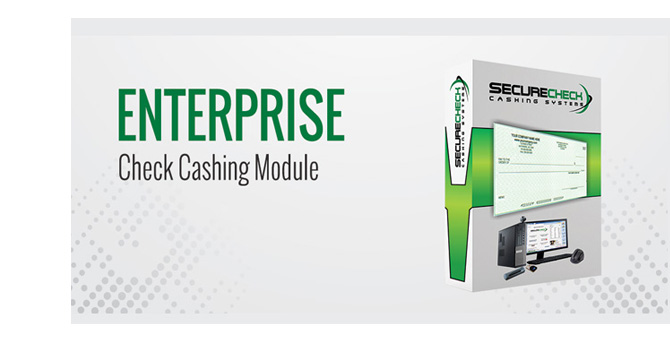 Includes all Enterprise built-in controls mentioned above plus:
Online Verification Services
Live Multi-store Network Capability
Integrated Hardware capability (Check & ID scanners, fingerprint units, etc)
Full Compliance and FinCen Reporting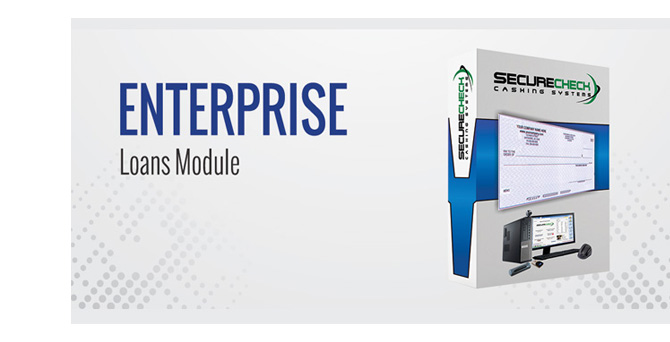 Includes all Enterprise built-in controls mentioned above plus:
Payday Loan Option
Installment Loan Option
Refinancing Tools
Veritic Integration
Automatic Disclosure Printing
100+
Feature Enhancements
POS & SECURITY FEATURES

Built-in Point of Sale
Simply the most advanced POS system in the MSB industry. Our customizable POS is a full service POS system designed to successfully operate an independent financial service center. The POS creates opportunities for sales of other financial products and services, offering complete customization, full record keeping, inventory controls, and more. Create items and departments, pricing models, and maintain inventory seamlessly through the interface.

Biometrics - Speed & Security
Each customer is identified in the system with a fingerprint making it virtually impossible for that customer to come back to that store perpetrating a different person. The fingerprint is connected to a file and the software automatically pulls up all of the check cashing and loan activity, notes, and records of that customer with just their fingerprint.

Less Typing - Automatic Data Entry
All information is programmatically extracted from IDs and Checks to save time and ensure quality and accuracy of the information. Our scanning and character recognition software ensures accuracy, speed and consistency when loading new information into the system.

Social Security & OFAC Look-Up
This service provides merchants with additional customer information by searching their Social Security number. It will return current and past addresses, phone number information, date of birth, OFAC information, living status, and other important data fields which can be used to cross-reference against the customer either verbally or comparing it to their ID.

Phone Number Reversal
Our system interfaces with a database of business listed phone numbers to make sure the number on your check matches the listed number for that business.
MANAGEMENT & LOYALTY

Speed – Complete a transaction seconds!
Our all-in-one interface makes it easy to securely breeze through the check cashing and loan process. The system provides quick and accurate identification, customer notes, and pictures of all past checks and loan transactions. All of the necessary information is available to the clerk in seconds.

Customer Profile
All transactional data is traced back to a customer profile as it is customer driven. Most activity will be driven from this very important page which includes a copy of all checks cashed, loans, ID/Driver's License, FingerPrint Identification, and more.

Camera Identification
Each customer's picture can be taken while they are at the counter. It is important to match that picture with the picture on their ID. When a customer approaches, the fingerprint scan will bring up a customer file associated with that fingerprint, including ID picture and information, face picture, loan transactions, and all check cashing pictures and records.

Loyalty Cards
Using a desktop printer, you can create a membership or loyalty card that will encourage your customers to come back to your store for their money service needs. These cards provide your employees a fast lookup alternative for customers who lack traditional identification or have difficulty with fingerprint readers.

Integrated Money Services
SCC has partnered with other service providers to integrate money services into the same software interface without an additional cost from SCC. These services provide an additional revenue stream for your business and build repeat customer business. These services include money transfers, bill payment, prepaid debit cards, gift card redemption, prepaid phone minutes, pin-less phone minutes, prepay top-ups, and more! For a detailed list of these services, Click here for more!.
---
CUSTOMER REPORTING TOOLS

Extensive Reporting
Our Enterprise solution offers the most advanced and flexible reporting system available that can be easily exported to Excel and PDF format. Using the reports menu, customers can pull a multitude of check cashing, loans, POS, and money service reports. Reports can be managed, arranged, and sorted in numerous ways which provides a high level of flexibility and practicality for many different types of customers.

Currency Transaction Reporting (CTR)
Our Enterprise solution will actually prompt merchants of all necessary CTR reporting they should file with the IRS. When customers reach the specified thresholds, those profiles are dropped into a print queue for easy printing directly on the CTR 104 form for filing. We constantly monitor Federal and State regulation to ensure that SCC customers are following all compliance requirements. CTR and the the Suspicious Activity Report (SAR) are available directly through the system.

POS Reports
POS reports can document all activity done by the user including money orders, bill payments, prepaid cards, etc. Our POS reports make it easy to track and reconcile all monies into and out of the system.

Compliance Reports
We continually improve and introduce new compliance reports to adhere to new State and Federal legislation. If your state or regulatory board introduces new requirements, we will actively and aggressively introduce those new reports to your software. Therefore, in the case of an audit, you and your business will be protected. Over the years, we have added numerous reports to fulfill State, Tax Board, and Banking Regulatory compliance laws. As new reports are introduced, we continue to update our reports suite.
---
CORPORATE & EMPLOYEE CONTROLS

Management Access
Management Stations are available to be added to system purchases for a low maintenance fee. This allows for remote monitoring of store activity via the Internet.

Corporate Management Suite

Remote Access
With Remote Access ability, you can login to your system from anywhere. Once you're logged in, you may use the computer as if you're right in front of it. The Basic Plan provides remote PC control from anywhere. Enhanced Access provides control and local printing without logging in.

Employee Log In & Permissions
The system is designed for specific employee log-ins. All of the activity conducted in the system will be assigned to the employee that is logged in. This creates accountability for the employees. The managers will be able to determine which employees cashed which checks and conducted other transactions. When employees are set up in the system, they are also assigned permissions. The administrator of the system can restrict certain aspects of the program while allowing others per each individual employee. Each and every administrative change is logged in the system for easy auditing.