LOAN MODULE
SCC's Enterprise Loan Module is a comprehensive and highly flexible solution that allows your business to easily manage the day to day activities of a running a lending operation.
MULTIPLE LOAN TYPES
Our solution combines the customer management tools from our highly rated Enterprise solution with a full menu of loan management tools for payday and installment loans. The system allows for the flexibility to issue multiple types of loans customized to your unique lending operations.
VERTIRICS INTEGRATION
Compliance is crucial in sustaining a lending operation and our Veritics integrations keeps you in check! This direct integration makes it super easy to perform eligibility checks and loan transmission directly within the same interface.
REFINIANCING TOOLS
Our refinancing tool is there to simplify the process of making adjustments to current loans. The process allows you to easily extend or rollover an eligible loan.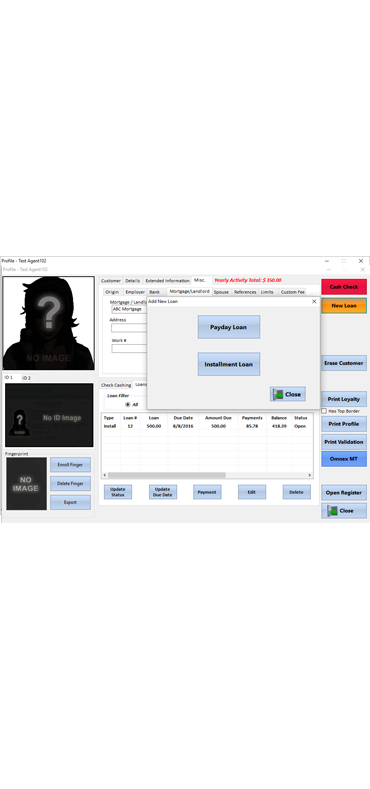 FLEXIBILE OPTIONS
Customizable features such as flexible term options, automated warnings, upcoming loans bulletin and configurable loan parameters allow for management to easily match the needs of each customer that walks in your door.
CUSTOMIZABLE FORMS
Our system allows the flexibility of designing and uploading your own agreements. These documents can easily be generated using existing customer and loan information from the software. The unique ability to specify your own data fields and create your own forms makes the document creation process a breeze.
AUTOMATIC DISCLOSURE PRINTING
Automatically generate your loan agreement and other required forms within the software for easy printing. This features allows you to customize printing options and specify the number of copies at the end of the loan transaction.
Contact Us
Please let us know how we can help and we will be in contact with you quickly!